TOOLS FOR COLD HEADING AND THREAD-ROLLING MACHINES
TMA KO PINS. EJECTORS
KO Pins, Ejector – a tool of elongated shape, a certain length and diameter of the head portion is used for the extraction (ejection) of finished fasteners from the press-form of drawing equipment. Ejection is performed with great effort, therefore, as a rule, this tool is made of high strength steel. Ejectors are available in various sizes and shapes, such as round, conical, straight and cylindrical. The important factors in choosing of ejector should include the degree of corrosion resistance, durability and tensile strength. Another important factor is the temperature at which the instrument will be used. Temperature conditions affect the strength and durability of the ejector. Plating can improve the life of the ejector and make it more durable. Coating reduces friction, which also makes the ejector more chemically inert and stable.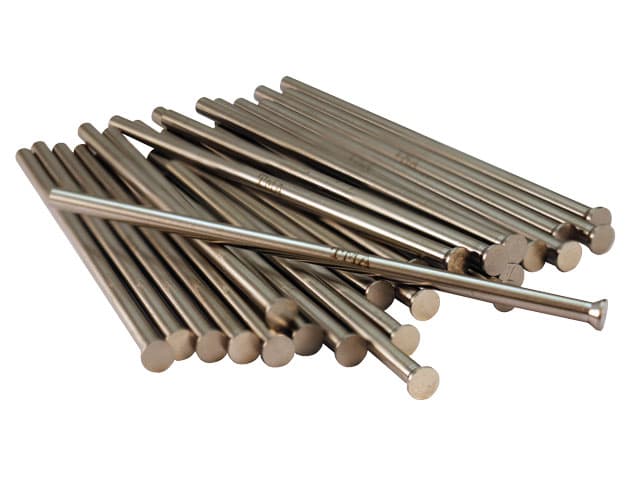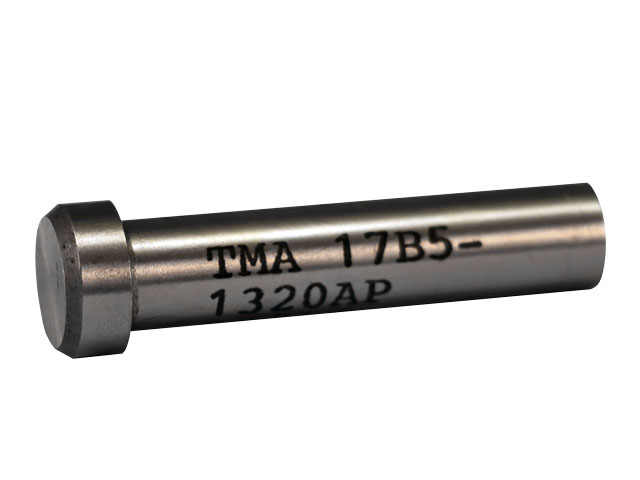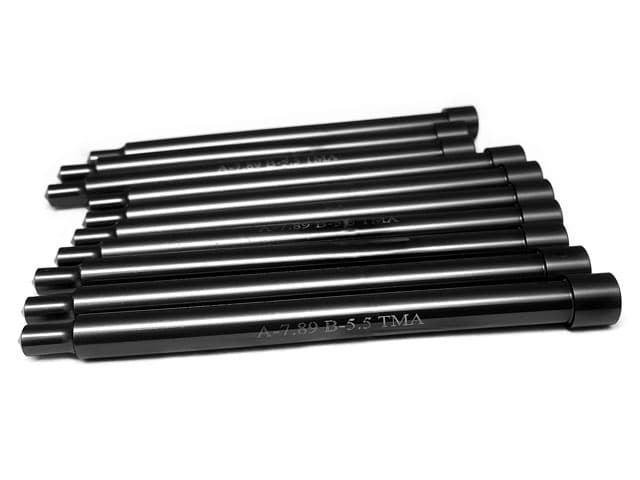 Material: SKH9 (M2) Hardness: HRC 63±1°C
Application: widely used in heading equipment, in conjunction with other tools such as stamps of headers, rolling dies, stripping dies.
SPECIFICATION
d
L
d
L
50
70
90
110
130
50
70
90
110
130
1.57
■
■
3.41
■
80
■
44
■
■
■
■
85
■
47
■
■
■
95
■
50
■
■
■
■
■
2.00
■
53
■
■
■
■
■
10
■
56
■
■
■
■
■
16
■
62
■
■
■
■
19
■
65
■
■
■
■
■
30
■
■
75
■
■
■
■
33
■
78
■
■
■
■
36
■
84
■
■
■
■
39
■
■
90
■
■
■
■
■
42
■
■
4.01
■
■
■
■
■
45
■
04
■
■
■
■
49
■
■
07
■
■
■
■
■
52
■
13
■
56
■
■
16
■
■
59
■
■
20
■
■
■
■
62
■
24
■
■
■
65
■
27
■
68
■
■
■
30
■
■
■
■
■
71
■
■
■
34
■
■
■
■
■
72
37
■
■
■
■
■
76
■
■
40
■
■
■
■
■
79
■
■
■
43
■
■
■
■
■
82
■
■
■
48
■
■
85
■
■
■
51
■
■
■
■
■
88
■
■
54
■
91
■
■
60
■
■
■
■
■
94
■
■
■
68
■
97
■
74
■
■
■
■
■
3.00
■
■
■
80
■
■
■
■
■
03
■
■
■
90
■
■
■
■
■
08
■
■
5.06
■
■
■
12
■
■
09
■
15
■
■
■
15
■
■
18
■
■
20
■
■
■
■
■
23
■
■
■
26
■
■
■
■
■
26
■
■
■
30
■
■
■
■
■
29
■
■
■
34
■
■
■
■
■
32
■
■
■
■
■
40
■
■
■
35
■
■
■
■
45
■
■
■
■
■
38
■
■
■
■
50
■
■
Note: Dimensions are in mm