TOOLS FOR COLD HEADING AND THREAD-ROLLING MACHINES
TOOL FOR CUTTING INTERNAL THREADS. TAPS
Thread tapping is a simple, well-known and highly effective method of obtaining the thread. This method provides productive and efficient thread cutting, small diameter particularly, due to short downtime, high speed cutting and long tool life.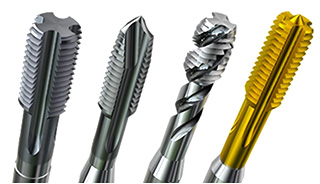 Standard taps and tap-burnishers have different construction. Important characteristics of each type of tap are: material, covering and geometry. Tap designed and suitable for specific application and operating with high efficiency only on one material, or under certain conditions, cannot provide the same level of efficiency in other materials processing or under other cutting conditions. Taps are appropriate for production of many thread profiles, they are suitable for all machine types with both rotating and non-rotating blanks.
Taiwan Metiz Alliance offers a complete range of taps for threading any profile of different materials. Our range is divided into two lines: taps optimized for handling specific groups of materials according to ISO, and taps optimized for handling several groups of materials.
Taps optimized for a certain group of materials according to ISO are intended for mass production, when threads are cut on one and the same items of the same material, or when unique requirements.
Taps optimized for handling several groups of materials , are appropriate for small- or medium volume manufacturing, when the thread is cut on various items of different materials.
Taps for handling specific groups of materials according to ISO
Designed for high volume production when threads are cut in the same parts from the same material, or when specific requirements are imposed.
High performance and long tool life.
Short downtimes.
High-efficient processing.
Increased productivity due to high speeds of cutting.
High performance due to specialized designs for each material and coatings.
Taps for handling several groups of materials
Designed for small to medium batch production where threads are cut in a variety of parts from a variety of materials. 
Suitable for a wide range of materials.
Reduces the range of tools and minimizes expenses.
Provides stable tool life.
Provides stable processing due to unique cutting geometry.
Depending on your specific requirements to the hole we have four different groups of taps.
Straight flute taps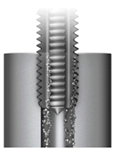 It can be especially beneficial when cutting short chipping material such as cast iron.
Can be used in through or blind holes.
Chip grooves are used for coolant supply, with internal coolant supply chip clearance is possible.
The straight flute is the standard style of tap, designed for a range of different tapping applications.
Spiral point taps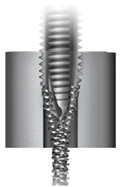 Push the chips forward.
Appropriate for thread cutting on the through holes.
The most robust construction due to depthless chip grooves.
Chip grooves are intended only for coolant supply, and not for chip clearance.
Spiral point taps have the cutting face of the first few threads cut at a predetermined angle relative to the tap's axis angle to force the evacuation of chips ahead of the cutting action.
Spiral flute taps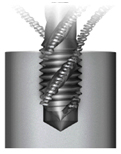 The spiral fluting feature aids in evacuating chips out of the tapped hole.
The best choice for thread cutting in blind holes.
Different spiral flutes lead angle for different applications.
Chip grooves are used for coolant supply and for chip clearance.
Tapping on different depths depending on the application and geometry.
Spiral flute taps feature spiral flute designs rather than conventional straight flutes.
Thread forming taps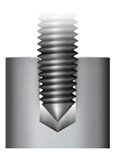 This tap does not cut, so it is 'chipless' and, consequently, will not cause a chip problem.
Suitable for materials with high plasticity. Recommended break point of the processed material is not more than 1200 N/mm2.
For thread forming both through and blind holes.
Both with and without lubrication channels designs are available.
Thread forming taps are fluteless (except as optionally-designed with one or more lubrication grooves), it forms the thread by extrusion.
Solid welded and assembled nut taps (nib tap & bent shank tap)
Composite taps are made of three parts: tap, coupler and shank. This tap is used by directly screwing onto a bent shank with a thread hole. Nib Tap could be connected with bent shanks by couplers, which would substantially shorten the adjusting time. Connecting taps with bent shanks by couplers could lower the possibilies of tap breakage caused by the strong torgue. To meet customers' requirements, we are able to design and manufacture taps or couplers per the samples offered.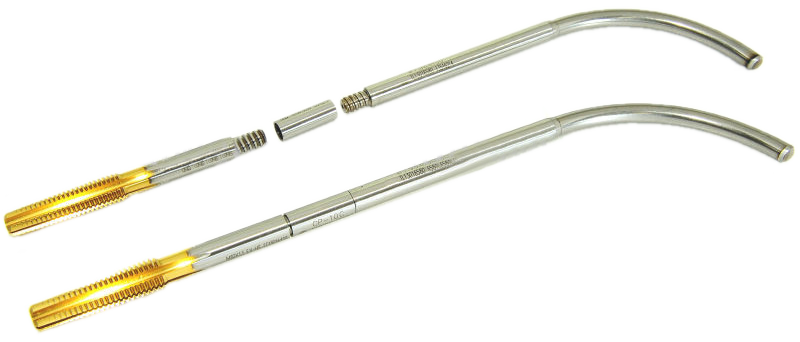 More information about nut taps
Thread forming machine taps
Cold forming taps (chipless taps, rolling taps) are recommended to be used when producing threads by plastic deformation (rolling) in parts made of non-ferrous and ferrous metals with high plasticity. These materials include: aluminum and its alloys, copper, brass, bronze with a high copper content, zinc and its alloys, low-carbon and high-plastic stainless and heat-resistant steels. Compared to cutting taps, forming taps have greater strength, provide accurate threads with low surface roughness, and increase thread strength (up to 20%).
High productivity in threading is the main advantage of cold forming taps. They are used for thread forming not only in through holes, but also in blind holes. The thread rolling profile is formed by pressing the tool into the workpiece material and extruding part of the material into the tool cavity.
Their main difference from cutting taps is the absence of longitudinal grooves that form cutting edges. In addition, the champfer on these taps is significantly shorter. At the end of the threaded part of the flute taps, there are small symmetrically located coolant grooves.






Thread forming taps are more productive than standard taps.
Ability to handle threads in the holes with 3.5 × D depth, no problems with chip clearance.
Thread forming taps have higher resistance.
One type of taps can be used for processing various materials, as well as blind and through holes.
Thread forming taps have a robust construction that reduces the risk of breakage.
Guaranteed to provide required accuracy of the thread.
No formation of chips.
Up to 100% stronger thread (higher bearing resistance).
Higher surface quality of the thread.
More information about the thread forming taps
Taps material and surface treatment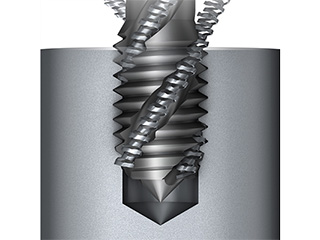 Taps of high-speed steel with addition of cobalt for increase.
Taps of powder high-speed steel for durability, wear resistance and tool life increase.
One-piece carbide taps for long tool life and maximum performance.
Three different coverings are available:

TiCN - applied to one-piece carbide tap-burnishers. It combines low friction with high hardness.
TiN - universal coverage with low frictional coefficient.
CrN - great choice for processing the materials of ISO N group and low alloy steel.
Thread-rolling / thread-cutting tools life
| Thread Size | Tap Material | Surface Treatment | Approximate Tool Life, pcs/items |
| --- | --- | --- | --- |
| M6 X 1.0 | HSS | TiN | 100,000-120,000 |
| M8 X 1.25 | HSS | TiN | 100,000-120,000 |
| M10 X 1.5 | HSS | TiN | 100,000-120,000 |
| M12 X 1.75 | HSS | TiN | 80,000-100,000 |
| M16 X 2.0 | HSS | TiN | 80,000-100,000 |
Video of the thread cutting in nuts with taps