COLD HEADING DIES
TMA Cold Forming Trimming Die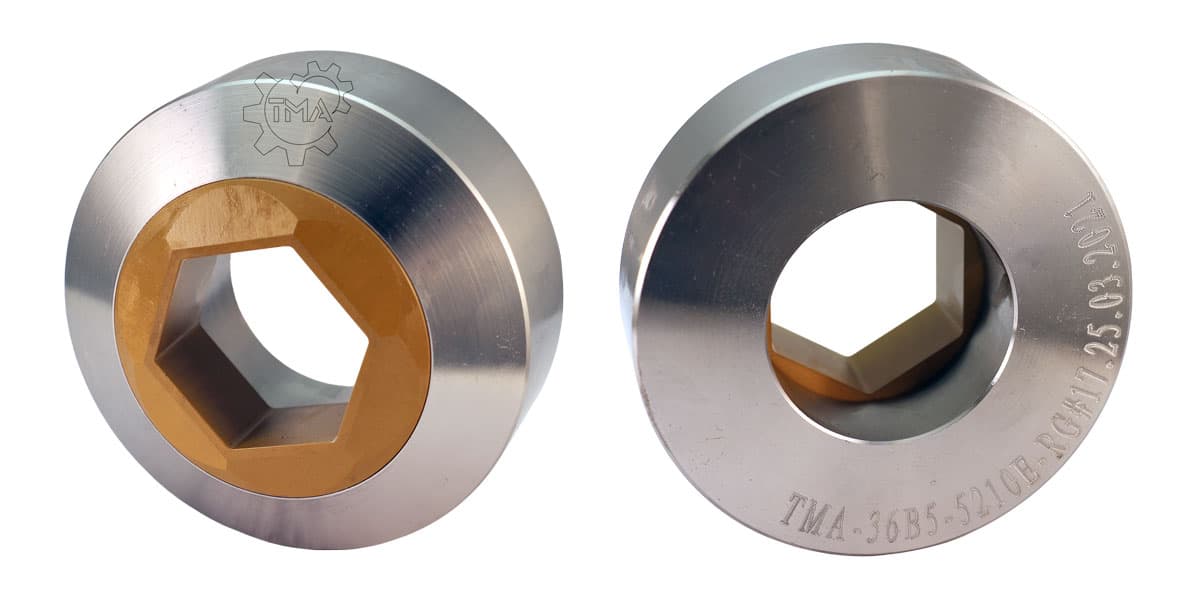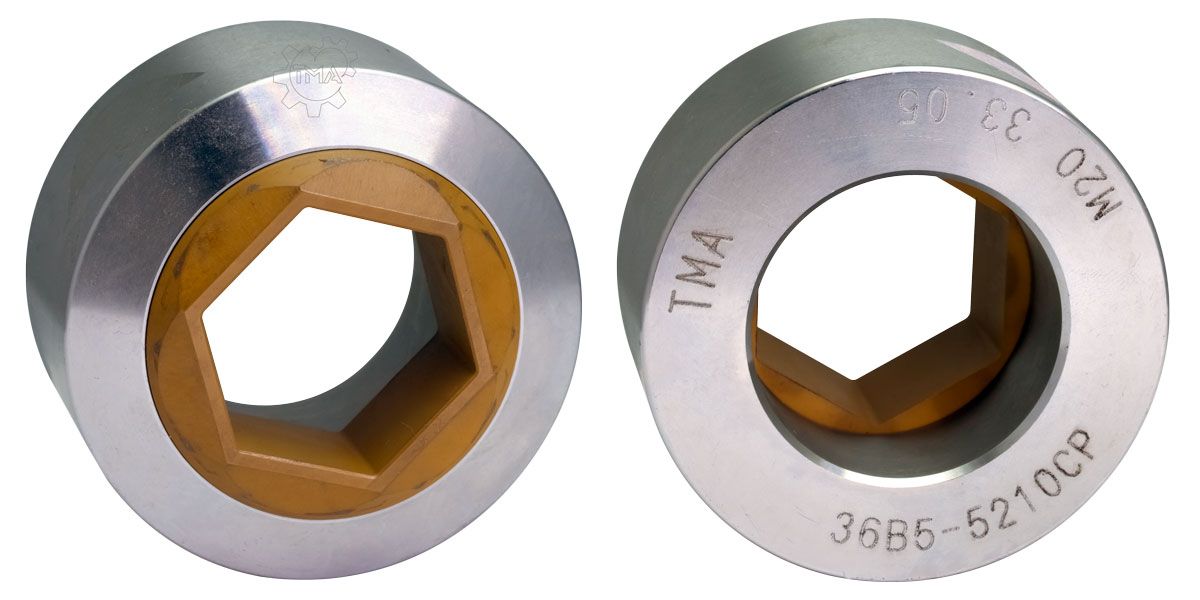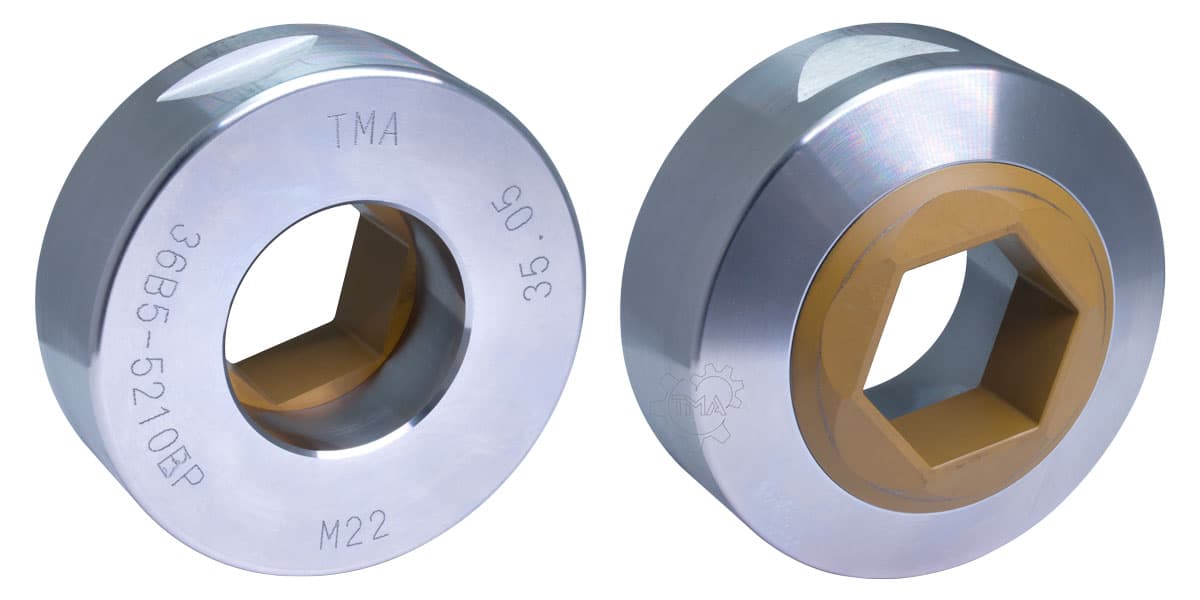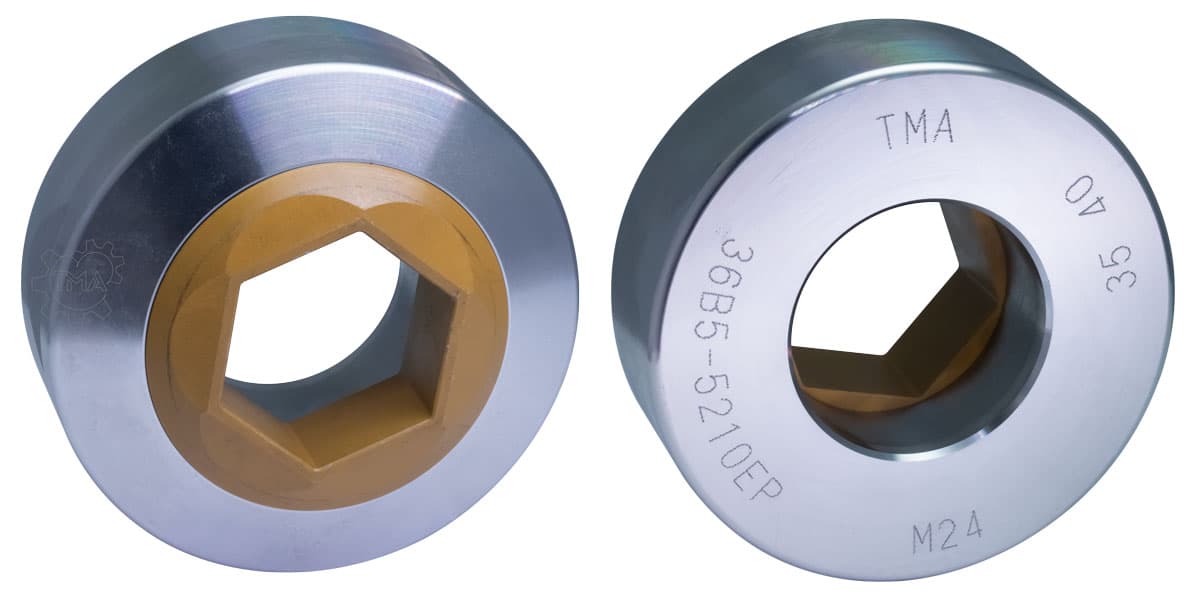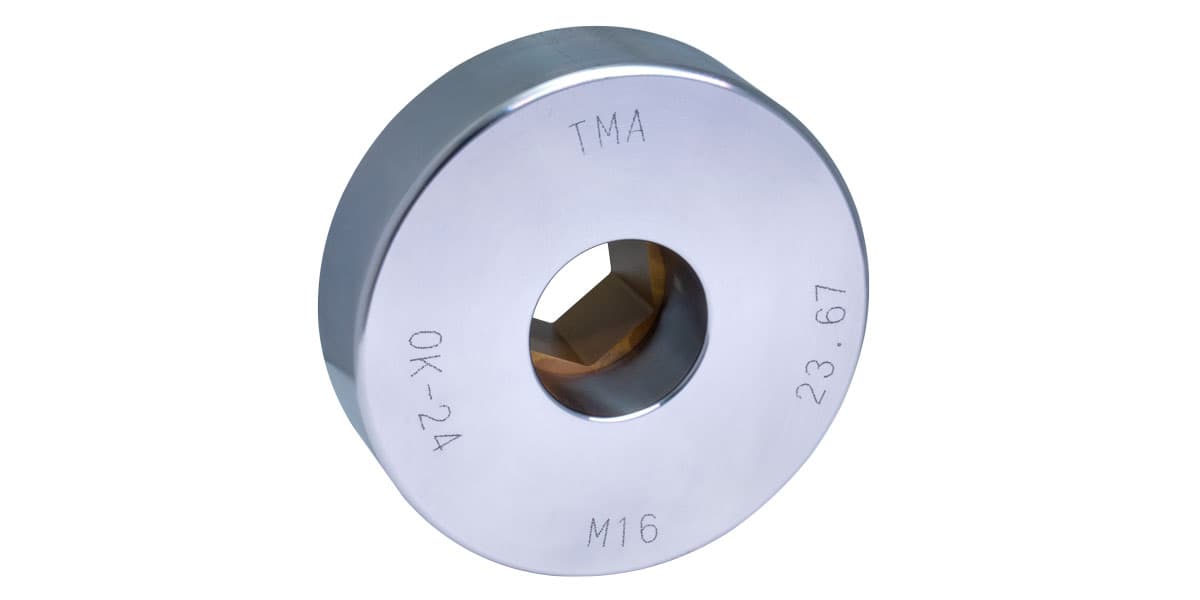 In case of cold heading bolts on automatic machines hexagonal, square and close to them heads are usually made out by trimming a barrel-shaped set of metal. Technological operation of obtaining the head is carried out in a trimming die, usually located in a block of punches, through which the metal set for the head is pushed by a trimming punch with a pusher. Cutting dies are highly loaded parts of tooling and their consumption in mass production of bolts is very high.
Depending on the complexity of the part, during the cold heading process, the trimming operation can be performed several times: to trim the hexagon on the bolt head and to trim the head flange.
From the point of view of the choice of the manufacturing method, the trimming dies are parts with a through relief axial cavity that has a slope. They are installed in the body without interference, which allows for quick replacement.
Trimming dies (cutting dies) are made in accordance with the individual requirements of the customer.
Excellent lifetime of the cutting dies contributes to production savings.
The average life of the trimming die is 60,000 strokes on the reference product M8 screw made of SCM435 alloy wire.
Alloy MD-4 cutting dies for bolts, nuts and stainless steel special parts have a life of 40,000 strokes.
We have the ability to develop tools and accessories according to finished product drawings and technical requirements. To do this, it is necessary to clarify the size of the fittings for the equipment, the model of the machines used and the diameter of the wire used for the upsetting of fasteners, hardware and parts.
Model
Workpiece size
Outer dimension
Cross section
D
L
B
RG-5001-01
M5
30
20
7.80
+0.05
RG-5001-02
M6
30
20
9.80
+0.05
RG-5001-03
1/4UNC
30
20
10.92
+0.05
RG-5001-04
5/16UNC
35
23
12.45
+0.07
RG-5001-05
M8
35
23
12.75
+0.07
RG-5001-06
3/8UNC
35
23
14.05
+0.07
RG-5001-07
7/16UNC
42
23
15.60
+0.07
RG-5001-08
M10
42
23
16.75
+0.07
RG-5001-09
M12
45
28
18.70
+0.1
RG-5001-10
1/2UNC
45
28
18.75
+0.1
RG-5001-11
M14
45
28
21.75
+0.1
RG-5001-12
5/8UNC
59
32
23.50
+0.1
RG-5001-13
M16
59
32
23.75
+0.1
RG-5001-14
M18
59
32
26.75
+0.1
RG-5001-15
5/8UNC
60
40
23.50
+0.1
RG-5001-16
M16
60
40
23.75
+0.1
RG-5001-17
M18
60
40
26.75
+0.1
RG-5001-18
M20
60
40
29.75
+0.1
RG-5001-19
5/8UNC
64
32
23.50
+0.1
RG-5001-20
M16
64
32
23.75
+0.1
RG-5001-21
M18
64
32
26.75
+0.1
RG-5001-22
M20
64
32
29.75
+0.1
RG-5001-23
A325 4/3
64
32
30.90
+0.1
RG-5001-24
M20
74
40
29.75
+0.1
RG-5001-25
A325 4/3
74
40
30.90
+0.1
RG-5001-26
7/8UNC
89
40
32.80
+0.12
RG-5001-27
A325 7/8
89
40
35.60
+0.12
RG-5001-28
M24
89
40
35.75
+0.12
RG-5001-29
1"UNC
89
40
37.50
+0.12
RG-5001-30
A325 1"
89
40
40.40
+0.12
C - clearance
R - rake face
M - width of land
B - width of across flats
CR - corner radius
D1 - outled diameter
d2 - clearance hole diameter
L - height
Ca - clearance angle
Ra - rake angle